My little ol' blog is being featured on "Friendly Friday" ...today!! How cool is that?! I'm flattered and excited :)
Don't know what it is? Check it out: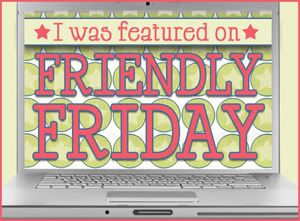 Thanks so much to the lovely ladies hosting for including me in their fun weekly blog hop! And thanks to everyone who has stopped by or followed me through their Friendly Friday link-up! I hope you will add your blog too, and follow someone new today!


(I hope that link works........ I'm new to this! So forgive me if this post is edited 2094823 times!)